How fortunate are we here in Ireland to have such an abundance of artisan products and more emerging virtually every week. This sector is incredibly creative and has helped to enhance the diversity and image of Irish food hugely, both at home and abroad.
Declan Ryan of Arbutus Bread, Cork
Visitors to Ireland are thrilled to taste the farm house cheese, charcuterie, preserves, pickles, ferments, smoked fish and increasing real bread from the growing number of artisan bakeries who are making real natural sourdough bread free of the almost twenty additives, enzymes, improvers and processing aids, which can be legally included without being on the label. No wonder so many people are finding they have a gluten intolerance.
In their 25 years, several awards recognise the efforts and creativity of this sector, Eurotoque, Dingle and The Food Writers Guild…

The latter awards were held recently at Glovers Alley restaurant in
the Fitzwilliam Hotel,
Dublin. The selection process is meticulously conducted. Nominations are in confidence, received from Guild members, shortlisted, tasted and chosen individually to a carefully agreed list of criteria.
An
Irish Food Writers Guild award
is much coveted by the recipients.
Image: Paul Sherwood
This year three of the eight biggest awards went to Cork – just saying!
One of the awards went to Hegarty's Cheese for their new Teampall Gael cheese. The Hegarty family are fifth generation dairy farmers in Whitechurch in North Cork. To add value to the milk of their large Friesian herd, they experimented first with yogurt and cheese and eventually launched a traditional cloth bound truckle of Cheddar in 2001.
Image: Paul Sherman
Jean-Baptiste Enjelvin from Bordeaux in France joined them in 2015 and a Comté style cheese, Teampall Gael is the result of this collaboration. This sweet, delicate, nutty, alpine style cheese is made only from the raw milk of pasture fed cows (no silage). The huge 40kg wheels are matured for at least nine months - a really exciting addition to the Irish farmhouse cheese family.
Image: The Courtyard Dairy
Mike Thompson's beautiful Young Buck Cheese from Co. Down also won an award. This raw milk, Stilton type blue cheese, comes from a single herd and was the first artisan cheese to be made in Northern Ireland.
near Carrigtwohill for their Rare Apple Ice Wine. A really exciting ice wine, delicious to serve with desserts or made into a granita. Andy McFadden and his team at Glovers Alley served it with a sheep's yoghurt mousse, honey and lime.
Image: Paul Sherwood
David Watson and Barry Walsh of Killhora Orchards grow over 130 varieties of apple used to make craft cider, and 40 pear varieties to make perry. Look out for their apple port also... It tastes like the best white port, delicious to sip on its own or with a good
tonic water.
Image: Paul Sherwood
The Community Food Award went to Cork Penny Dinners which was founded during the famine in the 1840s. This much-loved Cork charity provides up to 2000 nourishing hot meals every day of the year in a safe and nurturing environment for all those in need.
Catherine Twomey and her team also run five classes a week, the Cork Music Dojo, High Hopes homeless choir, the Food for Thought mental health initiative for students, mindfulness classes and French classes.
They are about to expand their facilities to include other educational opportunities, plus a clinic run by GP's who donate their expertise for one day a year. A third accolade for Cork and
a hugely deserving winner of the Community Food Award. If you would like to donate your time or money go to

their website.
Image: 3fe
The Outstanding Organisation Award went to 3fe Coffee in Dublin. What most impressed the Irish Food Writers Guild about 3fe is not only the fact that the 3fe brand has become synonymous with the best quality coffee in Ireland, but also the company's commitment to sustainability in the areas of waste and energy use, purchasing principles, staff welfare and community. Colin Harmon and his team have recently opened an all-day restaurant, Gertrude to add to their cafes, add it to your Dublin list...
Image: Paul Sherman
The Environmental Award went to Charlie and Becky Cole of Broughgammon Farm in Ballycastle, Co Antrim. The Irish Food Writers Guild recognises them for their exceptional commitment to the environment and for rescuing male kid goats who would normally have been put down at birth.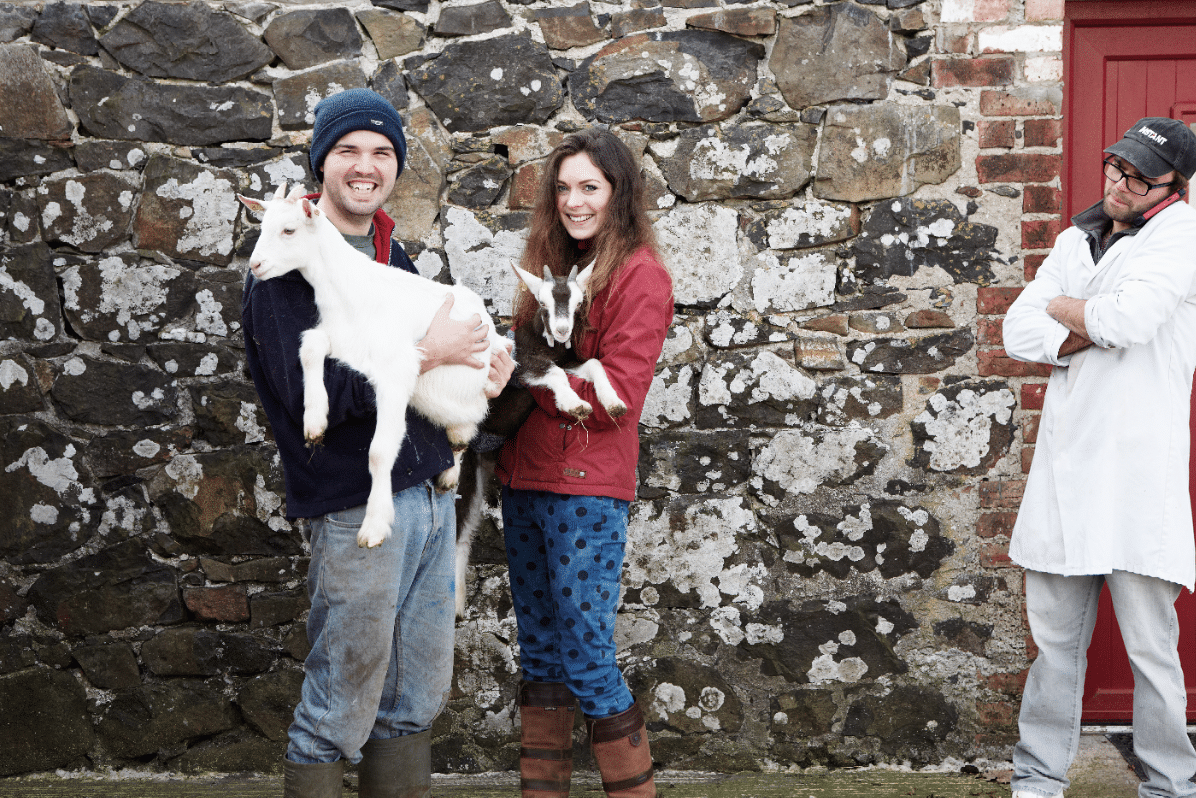 Image: Broughgammon Farm
They now rear free range rose veal and seasonal wild game as well and make an exceptionally good rose veal salami. There's also an eco-farmhouse, on-site butchery facility and farm shop that use solar thermal heating, low-flow appliances and photovoltaic solar panels.
The inspirational Workman family of Dunany Flour in Co. Louth have been growing heirloom wheat varieties and milling their own organic flour for four generations. Recently they recognised a gap in the market for spelt, a challenging crop to grow and harvest but nutrient dense and low in gluten, high in fibre and B vitamins and rich in essential fatty acids and amino acids. Dunany organic spelt grains are my new best find and we enjoyed a stunning
spelt risotto
made from it
for lunch at Glovers Alley. I can't wait to experiment more.
Last but certainly not least the Lifetime Achievement Award went to Peter Hannan of Hannan Meats, near Moira in Co. Down, in recognition of his continued work as one of Ireland's most dedicated food champions.
Peter has dedicated his life to producing superb quality beef and is 50% stakeholder in the renowned Glenarm Southern Beef Scheme. Hannon Meats are dry aged in four Himalayan salt chambers for an average of 35-45 days but they provide an extra aged product for special clients who want 80-100 days. Peter was a worthy recipient of this award, one of numerous awards he has deservedly won over the years.