When I did my Simply Delicious TV series in the 1980s and '90s, I used to get regular letters berating me for using butter and cream in my recipes. Had I no sense of responsibility? Didn't I realise that saturated fats were bad for us? Why wasn't I recommending low-fat alternatives?

You can imagine my reply!
I simply could not believe that butter, a totally natural product, made from the milk of grass-fed cows, could be less healthy than an artificial product made up of ten or more ingredients, some of them produced in a lab rather than originating in nature.
I was regularly referred to as the Butter Queen of Ireland, and once overheared someone say: "There's that Darina Allen 'wan' - she's a hoor for the butter!"

Despite the barrage of abuse I got, I never faltered. And surprise, surprise, it now appears, all those years later, that my gut feeling was right.
It's interesting how the tide has turned...
In October last year, Dr Aseem Malhotra, an

eminent cardiologist at Croydon University Hospital, argued, in

a

widely reported piece in the British Medical Journal,

that it was time to bust the myth of the role of saturated fat in heart disease.



From his analysis of independent research he concluded that there is no argument to back up the theory that saturated fats from non-processed foods are detrimental to our health. He maintains that saturated fats have been 'demonised' ever since a landmark study in the 1970's concluded that there was a correlation between the incidence of coronary heart disease and total cholesterol. An entire food industry has evolved and profited from this low fat mantra for almost four decades. For more on this see my November 16th article in the

Irish Examiner.

These findings caused quite a sensation. And it wasn't just Dr Malhotra and his colleagues who have come to this conclusion.

A recent study from Cambridge University and the Harvard School of Public Health published in the Annals of Internal Medicine reported that they found no link, repeat, no link between consumption of saturated fats and heart attacks or other cardiovascular problems.

The 22-year-long Harvard University study of 80,000

female nurses, has confirmed Malhotra's findings: the total amount of fat in the diet, whether high or low, isn't really linked with disease. What really matters is the type of fat in the diet. In the US

a recent University of California, Los Angeles study indicated that 75%

of acute heart patien

ts do not have 'high

cholesterol'.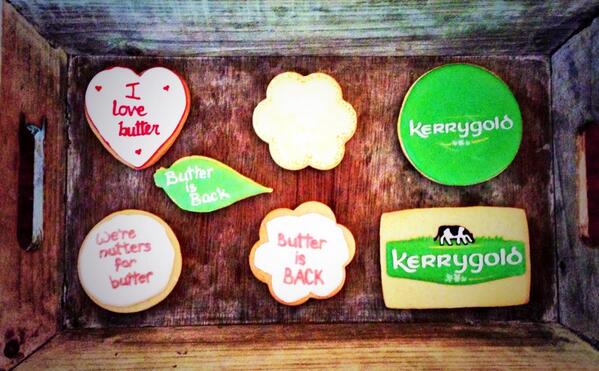 I have spoken to many

doctors, dieticians and heath professionals who are presently in a state of confusion, having been preaching the benefits of a low fat diet for years, they are now not sure what advice they should be giving.

So it's clear that it's time to rethink the received wisdom on what "good" and "bad" fats are - which is exactly what two of the most respected writers and broadcasters on food issues: Joanna Blythman and Ella McSweeney, will be doing in conversation with John McKenna at this year's Kerrygold LitFest. The Good/ Bad Fats: The Big Debate

6.30-8pm on Saturday 17th in the Grainstore, Ballymaloe House



I simply can't wait.

This promises to be one of the most interesting, important and ground-breaking sessions at LitFest this year. If you're interested in health for professional or personal reasons this is not to be missed.
We're also absolutely delighted to be joined by The Butter Vikings, an inspirational couple from Sweden, who are the chosen suppliers of handmade "virgin" butter for Rene Redzepi's legendary Noma restaurant. I met the Butter Vikings and Rene at the MAD Food symposium in Copenhagen and invited them to take part in LitFest - the response of both was an enthusiastic "yes please!"

And whilst we're on the subject of butter, the other great news is that Kerrygold have agreed to become our festival sponsors- how about that for a marriage made in heaven?
JR - a butter devotee and Ballymaloe pastry chef - in his Kerrygold bow tie at the LitFest launch in Dublin last week.