New Orleans – The Crescent City, nestled into a bend in the Mississippi river is truly wonderful – you might want to add it to your US bucket list. I was enchanted by the architecture, the live oak lined streets, the buildings and the creole cottages each with porches, verandas and its own unique features.
The street cars date back to 1893.
I particularly loved the old French Quarter, Marigny, Burgundy and the Garden District, the vibrant art and culture scene... and of course the food!


Image: Best New Orleans Hotel.com
It was a quick trip, barely two days but I packed a tremendous experience into that short time – enough to make me long to return.
I didn't get to do a proper cemetery tour, one of the star attractions of New Orleans, with their Greek and Roman sepulchres and palatial
mausoleums
. My visit didn't actually coincide with any of the festivals that New Orleans is famed for. Yet the city abounded with jazz and blues, and the swish new airport has been called after Louis Armstrong. There were even vases of fresh flowers in the loos – there's style for ya…!
Hotel Peter and Paul - Image: Here Magazine

I stayed at Hotel Peter and Paul, owned by a former Ballymaloe Cookery School student Natalie Jordi and her husband New York Times Journalist, Brett Anderson. A four year restoration of a historic New Orleans church, school house, rectory and convent, now with 71 bedrooms. I was tickled to find myself in the Mother Superior's bedroom, complete with a king canopy bed, adorned with tassles and holy fillials. But this is a food blog, so I'll concentrate on the many new Orleans specialities I managed to taste on my far too brief visit.
Mother Superior's Bedroom at Hotel Peter and Paul - image: Booking.com

My first taste of New Orleans was at a super cool café, Molly's Rise and Shine in the Irish Channel for a brunchy lunch before a tour of New Orleans. Loved every bite, a huge glass of fresh orange juice squeezed just moments earlier, roasted carrot yoghurt with granola and other good things, a southern biscuit (moist, tender scones to you and I) with sausage scrambled egg and pickles and Texas toast – one inch thick triangles of toasted brioche like bread with a little bowl of superb butter and jam on a speckled blue enamelled plate. Don't miss their sister restaurant Turkey and the Wolf if you make it to New Orleans – superb sandwiches with a permanent queue.

My sojourn didn't coincide with the famous crayfish season so I missed those but went along to an iconic Irish pub Erin Rose – with a Lill Killer Po Boy joint at the back. The name is short for Poor Boys a term apparently coined by the Martin brothers during the 1929 Street Car strike when the brothers served this kind of robust sandwich to the hungry strikers.
Po Boy - Image: Sortedfood.com

To make a New Orleans Po Boy, split a French bread roll, crackly crust and soft fluffy interior, slather with a spicy mayo, add pickles and shredded salad, maybe some freshly chopped herbs or tomatoes and a topping of roast beef or fried sea food. Ours was packed with shrimps and was almost a cross between a Po Boy and a Banh mi – a meal in itself and quite the challenge at 10am in the morning but I take my research very seriously so I tucked in with gusto. Next stop Congregation Coffee and cool café, superb pastries and a tempting potato and turnip soup with horseradish dill and mushroom and a braised rabbit sandwich with blue cheese and watercress.
Image: Levee Baking Co. com

Christina Balzebre's, Levee artisan bakery just off Magazine Street was also exceptional, superb naturally leavened bread, and handmade pastries. I bought a crusty baguette and some other tempting confections for my picnic on the plane and then headed over to St James's Cheese Company for cured meats, Vermont cultured butter and some farmstead cheese. Lunch was at Peche, a James Beard award winning restaurant where I tasted Hush Puppies with honey butter.

After an intriguing tour through New Orleans, dinner that night was at Apolline where chef, Michael Shelton, cooks contemporary American food. I got to taste okra in New Orleans, one of the many good things I ate there.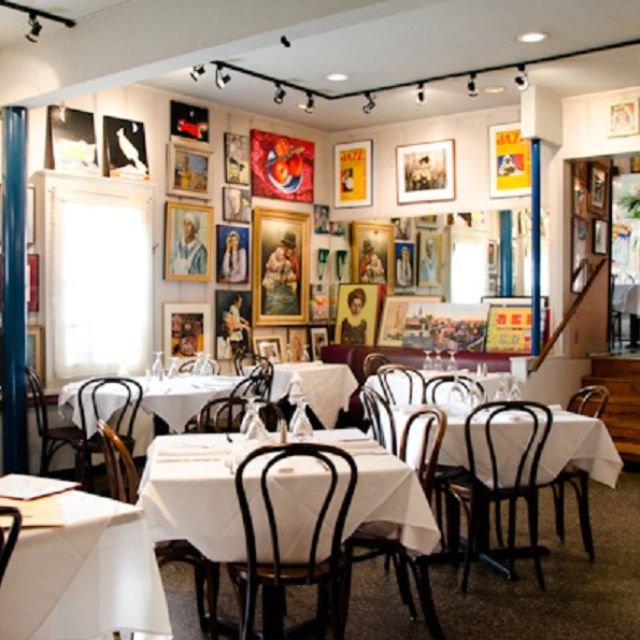 Upperline Restaurant Image: opentable.ie
My final meal was at the iconic Upperline Restaurant on Upperline Street, classic New Orleans dishes, contemporary Creole cooking and a warm welcome from the utterly charming, feisty 80 year old hostess JoAnn Clevenger – definitely the 'hostess with the mostest' in the whole of New Orleans
–
described variously as 'a girl scout with gumption' and 'the one dress hostess'.
JoAnn Clevenger - Image tasteofthesouthmagazine.com

I tasted so many classic New Orleans dishes, fried green tomatoes with shrimp remoulade, turtle soup, gumbo, and Upperline's famous pecan bread pudding with toffee sauce – all so delicious…

I really long to go back to New Orleans and next visit maybe I'll have time to taste the famous beignets from Café du Monde…