I just love to take short breaks in Ireland. Choose an area, spend a couple of nights in a local country house or B&B and explore.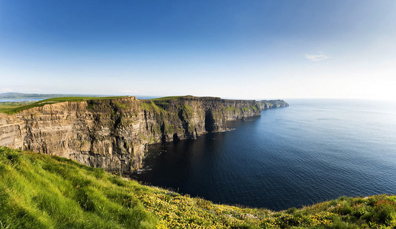 Image: Ireland.com

This time it was West Clare, and boy is it all happening in West Clare! I steer well clear of the prime tourist spots, been there, done that a long time ago when they weren't overrun with tourist buses and often truly shocking fast food. Is it really the case that bus tours only want that kind of food? I find that really hard to believe and wince at the damage to the reputation of Irish food. . .
On the other hand there's much to be excited about. In Lahinch we found
Hugo's Deli
, a tiny bakery cum café, where Hugo Galloway, a brilliant young baker was turning out dark and crusty natural sourdough loaves, warm sausage rolls, focaccia and warm Portuguese custard tarts to die for.
I can't imagine how they do it in such a tiny space. Hugo is self-taught, learned by trial and error. The counter is made from recycled packing cases, a few wooden seats around the edges. A nonstop stream of cool young hipsters, surfers and grateful locals poured in for a 'made to order' focaccia sandwich that looks properly delicious, while I was sipping a double espresso and nibbling one of the best pastéis de nata (Portuguese custard tarts) I've ever eaten. That was it – a short menu of delicious things – bravo Hugo and team!


Another exciting discovery for me was Moy Hill Community Farm where Fergal and a whole group of friends and volunteers have developed an inspirational food producing project on 70 acres of mixed land, with 55 CSA's / members, which supply 13 restaurants, and two Farmers Markets, Ennistymon and Kilrush and a REKO Ring in Ennis, on Wednesday 6:30 and 7:00 at 9 Lower Market Street, Clonroad Beg, customers meet producers and pay cash to collect their spanking fresh food. Another brilliant route to market where local farmers and food producers get paid full price for their produce rather than the circa 33% they would get through the ordinary retail system.

The energy and enthusiasm was palpable when we visited unannounced as preparations were being made for the Farm Gathering - three days of workshops, music, food, foraging farm tours, regenerative agriculture talks, crafts and dancing – a wonderful celebration on the Harvest Equinox.


Moy House, a Blue Book property overlooking Lahinch Bay also had a beautiful garden bursting with fresh produce grown by Sarah Noonan and her team Matt Strefford to use to make magic in the kitchen.
On the main street in Ennistymon you'll find Niamh Fox, chef and owner of The Little Fox, a super cool spirited café serving the sort of fresh quirky creative plates that I'm happy to drive all the way to Clare for. We washed it down with thalli kombucha made by Avery Maguire a brilliant young forager whom you'll occasionally find in The Aloe Tree health food shop on Main Street or on her stall at the Milk Market in Limerick on Saturdays. We were there for lunch but check out Little Fox delicious dinners and 'pop ups'.

Bespoke handmade knife lovers, of which I am certainly one should link up with Niamh's partner Sam Gleeson (also a furniture maker) to explore the options. While we are on the subject of handmade, just across the road under the stone arch you'll find Eamon O'Sullivan who carves handmade spoons and will give his next course in Ballymaloe Cookery School on Saturday November 16th 2019, from 9.00am to 5.00pm, and the course includes lunch.
Image: The Irish Times

Just next door you'll find The Cheese Press run by Sinead Ni Ghairbith where you'll find among other temptations the superb St Tola goat cheese in its many variations made by her sister Siobhan Ni Ghairbith.
If you have a little more time to linger in Co Clare, drive across the Burren, treat yourself to a stay at lovely Gregan's Castle and enjoy Robert McAuley's food. Swing by Flaggy Shore for some oysters, then on up to Hazel Mountain Chocolate, the most remote chocolatier in Europe - making chocolate from the bean to the bar and yet one more absolutely must do – check out where Julia's Lobster Truck will be that evening (maybe Bell Harbour) – you absolutely mustn't miss Julia Hemmingway's barbequed lobster, lobster roll, steamed clams and mussels, traditional fish and chips and briny Flaggy Shore oysters.