This was another post that I didn't get around to sharing at the time... I'm sure we're all in need of a little "sweet treat" now.

At a glitzy event at Palais Brongniart in Paris in February 2019, Ballymaloe House won Trolley of the Year Award at the inaugural World Restaurant Awards for its iconic 'Sweet Trolley' as it's affectionately known.
Over 100 chefs from 37 countries made up the panel of judges for 8 different categories of the restaurant experience... Ballymaloe House had first been long-listed, then short-listed, the tension was nail-biting and then at last the announcement. The iconic dessert trolley that Myrtle Allen had introduced at Ballymaloe House, when she opened her own dining room as a restaurant in 1965, had won the top award... super exciting...

The original timber trolley was made by the late Ballymaloe farm carpenter, Danny Power who was well known for his 'tasty woodwork'.
Every evening, Myrtle piled it high with an ever changing selection of her favourite seasonal desserts. Always a homemade ice-cream made from the rich Jersey cream of the farm's pedigree herd. This was, as it still is, served in a bowl of ice that Myrtle created to keep the ice cream chilled throughout the evening. A meringue gateau of some kind, a compote of fresh seasonal fruit from the walled garden. Rhubarb perhaps, or green gooseberry and elderflower followed by currants and berries in Summer and Autumn. Perhaps an orange or silky chocolate mousse, creme brûlée or her favourite carrageen moss pudding with soft brown sugar and cream or Irish Coffee sauce.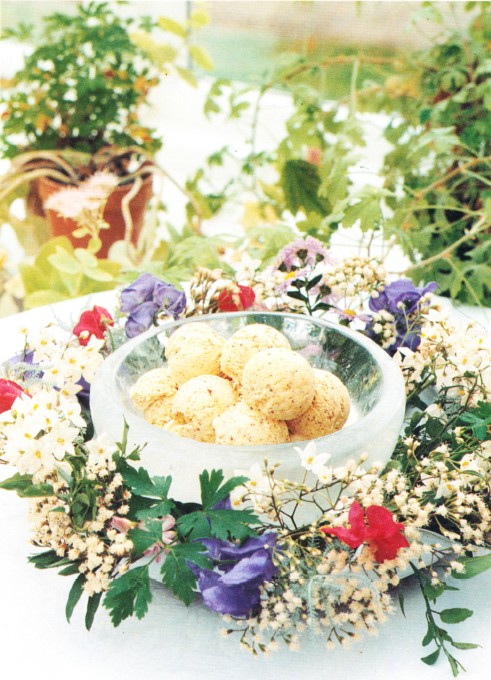 Fast forward to now. JR Ryle, the young pastry chef who came to work with Myrtle in 2004 accepted the prestigious award on behalf of Ballymaloe. He continues to work his magic with his equally passionate team in the Ballymaloe pastry kitchens but now he's also in demand to do Sweet Trolley Pop Ups....

He's just been to New York to do the first US Ballymaloe Sweet Trolley 'Pop Up'. King on King Street in Manhattan was the venue; it was a roaring success, totally oversubscribed…

I spoke to co-owner of King, Ballymaloe Cookery School alumni, Claire De Boer who with her friend Jess Shadbolt opened King on King St in September 2016.

"Something magical happened, it felt like a house party, everyone was chatting to the next table and having fun"

The pastry chef at King also trained at the Ballymaloe Cookery School and the River Café. Brian McGin of Netflix flew in from Australia on his way to L.A and Claire Ptak of Violet Cakes came from London, Food Journalist, Christine Muhlke of Bon Appetit, a big fan of King came to the rescue when JR was having difficulty sourcing a trolley in New York.

David Tanis was there from the New York Times, four people from the prestigious Prior Travel Club. Clare De Boer told me that full capacity for Sunday lunch is 40 guests but due to the overwhelming demand they decided to do two sittings and stopped the bookings at 80 plus.
Special Silverwood tartlet tins had been flown out to New York two weeks earlier. Jerpoint glass in Kilkenny was commissioned to make the hand blown glass bowls for the compote and pannacotta... they arrived just two days before the event... nail biting stuff... Stable, that shop in Westbury Mall in Dublin provided the beautiful linen for the trolley but sadly the hand thrown Fermoyle Pottery didn't arrive from Ballinskelligs until after the event – next time!

Watch this space for news of future Ballymaloe Sweet Trolley Pop Ups.