Today, May 20th, is World Bee Day, so a whole post this week on honey, nature's most delicious, interesting and bio diverse sweetener.
Honey has long been prized for its medicinal properties, now backed up by modern medicine and a growing body of scientific research. I'm a big honey aficionado...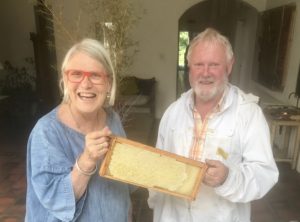 Ancient Ireland was known as the Land of Milk and Honey and coincidently the name Ballymaloe means the Townland of Sweet Honey. The anglicized version of the Irish Baile Meal Luadh – meal means honey and luadh means soft or sweet. These names entered into the language over 2,000 years ago and would always have reflected a particular attribute of that place. So Ballymaloe must have been well known for the quality of the honey from surrounding the area.
Here at Ballymaloe Cookery School we have some hives in the pear and apple orchard looked after by our local bee keeper... beautiful honey...
Both honey and bees are utterly intriguing, the colour, flavour and aroma of honey reflects the flora from which the bees collect the nectar. Heather honey tastes and smells quite different from mixed flower or apple blossom, ivy, rapeseed…
Honeys from further afield have their own distinctive taste. Lavender honey captures the aromatic essence of the lavender plant as does chestnut, orange or acacia blossom. Honey from pine forests which I also love, tends to be more resinous and a deeper amber colour.
The New Zealanders did a brilliant marketing job on Manuka honey when they discovered that is was most effective in killing antibiotic resistant infections such as MRSA. But it's not the only honey with these and many other healing attributes. Raw honey is increasingly being used to treat, difficult to heal, wounds and burns. Other studies have shown its efficacy as a cough soother.
Raw honey is the term used for honey that has not been heat treated to extract the honey from the combs. It still has its full complement of antioxidants, enzymes and antibacterial properties. It looks paler in colour, and sets almost solid in the jar. Here in Ireland we have an astonishingly wide range of honeys. Check out the local bee keeper/s in your parish. I seem to favour honey from small local producers. Talk to the beekeeper, hear the story, each honey will taste different and contain the antibodies and enzymes of the area, which help to counteract eczema and hay fever. Look out for city bee keepers too. The Dublin Honey Project is intriguing as is Belfast Bees; there are similar projects in London, Paris, New York, Sydney …
How about keeping bees yourself? It's really thrilling to have your own honey. It'll be slightly different every year depending on what the bees are feeding on and the prevailing weather. If the idea of doing the bee keeping yourself doesn't appeal, contact your local bee keeper, they are often delighted to have few more hives. Particularly in an organic garden or on a rooftop in an urban or rural area where there are little or no pesticides.... Scientists are now convinced that neonicotinoids have been damaging vital bee colonies and have a dramatic impact on eco systems that support food production and wildlife.
The EU banned the use of neonicotinoids in 2018 after a major report from EFSA concluded that the widespread use of these chemicals is in part responsible for the plummeting number of pollinators, vital for global food production – they pollinate ¾ of all crops.
Finally, governments appear to be listening to their citizens concerns, so hopefully the bee numbers will begin to recover. Nature given half a chance has an amazing ability to heal and regenerate.
Image: The Conscious Kitchen
Honey is not only brilliant lathered on toast, I regularly add a spoonful to savoury dishes, dressings and salads to balance acidity and add a sweet- sour element. Chefs are caramelizing honey to add a bitter note to some desserts... Have several types in your pantry, so you can experiment with different characteristics. We love to have a whole honeycomb for our guests at breakfast and if you're crafty you can make a candle from the left over wax....